Vacon X Series Drive
Toughest AC Drive on the planet!
1 - 200 HP variable frequency drive
NEMA 4X / IP66 Enclosure (indoor or outdoor use)
Waterproof up to 1,000 PSI from 6" away
Easy to program and operate
Bright, clear, backlit LED display
Large keypad with well-marked buttons


Product Overview
Overview
The Vacon X Series VFD is the toughest ac drive on the planet. Built to withstand heavy industrial applications the drive is designed to work indoors or outdoors. The drive enclosure that makes it suitable to withstand all forms of weather, is also highly suited to withstand frequent cleaning even by a high-pressure wash from only 6" away (6" away for drives up to 30 HP & 12" away for drives 30 - 100 HP).
All models are packed with advanced control and operation features that make them the best choice for everything from simple, stand-alone applications to advanced system-level controls.
Design
The Vacon X4 and X5 AC Drives are designed for real world processes where the drives are exposed to all types of weather, abrasive materials, heavy use. The X Series drives have been designed from the ground up to survive hostile environments but still remain simple to use. They can be mounted where the work is saving space and associated costs.
Features
Easy to program and operate
Bright, clear, backlit LED display
Large keypad with well-marked buttons
USB interface
Fully coated PC boards for added protection
Real-time-clock
Options
Communication I/O boards (X5 only)
Certifications
Markets
Food & Beverage
Industrial
Manufacturing facilities
Distribution centers
Conveying
Water & Waste Water
Fish farms
More Info
For more information please contact us at 281.516.3130 or info@saidrives.com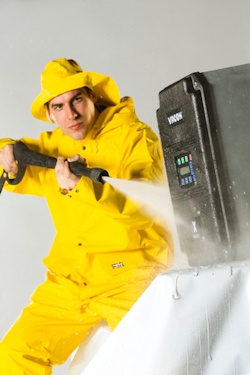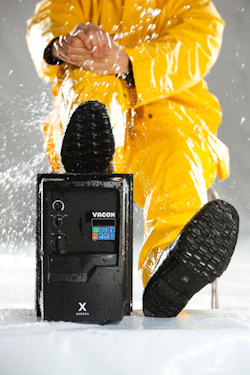 Specifications
Motor Shaft Power and current
Frame Size
Dimensions
Weight (kg)
High Overload (150%)
Low Overload (120%)
W x H x D (mm)
Weight (lbs)
HP
kW
Amps
HP
kW
Amps
W x H x D (in)
0.5 HP
0.37
1.1
1 HP
0.75
2.1
F0
165 x 241 x 155
3.85
1 HP
0.75
2.1
2 HP
1.5
3.4
F0
2 HP
1.5
3.4
3 HP
2.2
4.8
F0
6.5 x 9.47 x 6.08
8.5
3 HP
2.2
4.8
5 HP
4
7.6
F1
221 x 306 x 166
6.35
5 HP
4
7.6
7.5 HP
5.5
11
F1
7.5 HP
5.5
11
10 HP
7.5
14
F1
8.72 x 12.01 x 6.51
14
10 HP
7.5
14
15 HP
11
21
F2
15 HP
11
21
20 HP
15
27
F2
273 x 442 x 201
13.38
20 HP
15
27
25 HP
18.5
34
F2
10.75 x 17.38 x 7.91
29.5
25 HP
18.5
37
30 HP
22
40
F2
30 HP
22
46
40 HP
30
61
F3
286 x 513 x 314
22.68
40 HP
30
61
50 HP
37
72
F3
11.19 x 20.19 x 11.73
50
50 HP
37
72
60 HP
45
87
F4
60 HP
45
87
75 HP
55
105
F4
326 x 745 x 351
43.1
75 HP
55
105
100 HP
75
140
F4
12.84 x 29.35 x 13.8
95
100 HP
75
140
125 HP
90
170
F5
461 x 1334 x 429
138.35
125 HP
90
170
150 HP
110
205
F5
150 HP
110
205
200 HP
132
261
F5
18.14 x 52.5 x 16.88
305
Environmental
Operating Temperature
-10°C to +40°C (14°F to 104°F)
Storage Temperature
-20°C to +65°C (-4°F to 149°F)
Humidity
0% to 95% non-condensing
Altitude
1,000m (3,300 ft) without derating
Maximum vibration
Per EN50178: Frame Size ) and 1 5G
Acoustic Noise
80 dba sound power at 1m (3ft)
Cooling
1-5HP Models: Convection; 7.5 - 200HP: Forced Air (24VDC fan)
Protection Level
1 - 100HP Models: UL 4X / IP66 Indoor or Outdoor, 125 - 200HP Models: UL 12/IP55
Agency approvals
UL, cUL, CE
Electrical
Input Voltage
380-460 Vac, 3 phase, +/- 15%
Line Frequency
50 / 60 Hz +/-2 Hz
Source kVA (maximum)
10 times the unit rated kVA (65kA maximum)
DC bus voltage for:
460 Vac Models
Overvoltage trip
814 Vdc
Dynamic brake activation
776 Vdc
Normal under voltage (UV) trip
397 Vdc
Control system
V/Hz or Sensorless Vector Control (SVC)
Carrier frequency = 1 to 16 kHz programmable
Output voltage
0 to 100% of line voltage, 3 phase
Overload capacity
120% of rated RMS current for 60 seconds (Normal Duty rating)
150% of rated RMS current for 60 seconds (Heavy Duty Rating)
Frequency output
Range: 0.1 - 400Hz; Stability: 0.1Hz, 0.1% analog over 24 hours +/- 10°C
| | |
| --- | --- |
| DC holding/injection braking | At start, stop, by frequency with adjustable current level and time and time or continuous DC injection by digital input. |
| Current limit | Four-quadrant adjustable from 5 to 150% |
| Speed ramps | Primary and alternate adjustable from 0.1 to 3200.0 seconds |
| Voltage boost | Adjustable fixed boost or adjustable auto boost |
| Voltage characteristic | V/Hz - Linear, pump, fan or 2-piece linear; Sensorless Vector |
| Timed Overload | Adjustable inverse time trip (shear pin, 30 sec, 60 sec, 5 minutes) for standard or inverter-duty motors |
| Protective features | Overcurrent, Overvoltage fault, ground fault, short circuit, dynamic Brake overload, drive temperature, power wiring fault. Drive-timed overload, input voltage quality, overvoltage ride through |
| Program Sequence Controller | X4: 9-step, PLC-type functionality to control speed, direction and ramp times based on time, analog input, digital input or pulse count.X5: 25-step, PLC-type functionality that can control speed, direction and ramps based on time, analog input, digital input, or pulse input. Conditional branching, addressable outputs and real time operations possible. |
| PI and PID Feedback | X4: PI Process control available with the use of a customer supplied transducer, either 0-10Vdc, 4-20mA or optical encoder input to the drive.X5: Process control available with the use of a customer supplied transducer, either 0-10Vdc, 4-20mA or optical encoder input to the drive. Includes an optional sleep mode, |
Downloads
Downloads for X Series VFD
More downloads available in the download section of the website Support Downloads