Vacon NXP Wall Mount Drive
1 - 200 HP variable frequency drives
Controls induction and permanent magnet motors
Reliable, robust performance, engineered for demanding applications
UL listed disconnected switch and ultra rapid AC fuses
Built-in brake chopper and DC-link bus connections
Dynamic open and closed loop vector control
High number of standardized options
50° C ambient rating, no derate
In stock, ships from Houston warehouse, fast delivery!


Overview
Overview
The NXP wall mount drives by Vacon are highly engineered variable frequency drives designed for oil & gas, extrusion, mining, pulp & paper, water & waste-water environments. The NXP drives are built to handle high inertia, overhauling loads of both induction and permanent magnet (PM) motors, gearless drive applications and paralleling solutions.
The NXP wall mount drives feature a 200-600 HP vfd, fitted within in a fully protected NEMA 1 enclosure. The solution includes a UL listed load disconnect switch and ultra-fast semiconductor fuses with a built-in brake chopper unit (availlable in frame size 7-12). The drives also provide DC bus terminal connections.
Communications
Vacon NXP drives are the smart drive of choice. With exceptional programming flexibility and fast fieldbus I/O the NXP drives can easily be integrated into any automation system.
Wide array of I/O communication cards
Fast drive-to-drive communication
Certifications and Standards
The NXP drives meet key international standards and global requirements.
More Info
For more information please contact us at 281.516.3130 or info@saidrives.com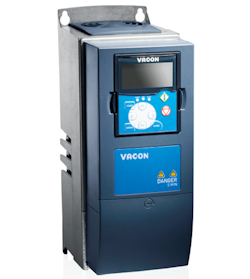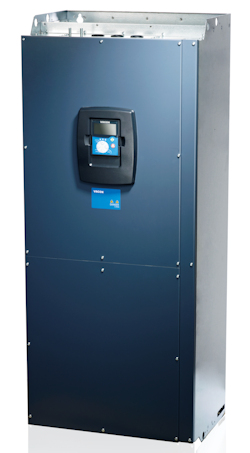 Specifications
VACON NXP is an air-cooled AC drive solution for all applications where robustness, dynamic performance, precision and power are required. This series of air-cooled drives can operate with anything from 0.75 kW to 160 kW.
Motor Shaft Power and current

Frame Size

Dimensions

Mass

High Overload (150%)

Low Overload (120%)

W x H x D (mm)

Weight (kg)

HP

kW

Amps

HP

kW

Amps

W x H x D (in)

Weight (lbs)

1 HP

0.75

2.2

1.5 HP

1.1

3.3

F4

128 x 292 x 190

5 x 11.5 x 7.5

5

11

1.5 HP

1.1

3.3

2 HP

1.5

4.3

F4

2 HP

1.5

4.3

3 HP

2.2

5.6

F4

3 HP

2.2

5.6

5 HP

3

7.6

F4

5 HP

3

7.6

5 HP

4

9

F4

5 HP

4

9

7.5 HP

5.5

12

F4

7.5 HP

5.5

12

10 HP

7.5

16

F5

144 x 391 x 214
5.67 x 15.39 x 8.5

8

18

10 HP

7.5

16

15 HP

11

23

F5

15 HP

11

23

20 HP

15

31

F5

20 HP

15

31

25 HP

18.5

38

F6

195 x 519 x 237

7.68 x 20.5 x 9.33

19

41

25 HP

18.5

38

30 HP

22

46

F6

30 HP

22

46

40 HP

30

61

F6

40 HP

30

61

50 HP

37

72

F7

237 x 591 x 257
9.33 x 23.27 x 10.12

35

77

50 HP

37

72

60 HP

45

87

F7

60 HP

45

87

75 HP

55

105

F7

75 HP

55

105

100 HP

75

140

F8

291 x 758 x 344

11.46 x 30 x 13.54

58

128

100 HP

75

140

125 HP

90

170

F8

125 HP

90

170

150 HP

110

205

F8

150 HP

110

205

200 HP

132

261

F9

480 x 1150 x 362

19 x 45.28 x 14.25

146

322

200 HP

132

245

250 HP

160

300

F9
Mains Connection

Input voltage Uin

208…240 V; 380…500 V; 500…690 V; –10%…+10%

Input frequency

45…66 Hz

Connection to mains

Once per minute or less

Starting delay

2 s (FR4 to FR8); 5 s (FR9)

Network imbalance

Max. ±3% of nominal voltage

Supply network

Networks

TN, TT, IT

Short circuit current

Maximum short circuit current has to be < 100 kA.

Motor Connection

Output voltage

0–Uin

Continuous output current

IH: Ambient temperature max. +50°C, overload 1.5 x IH (1 min./10 min.)
IL: Ambient temperature max. +40°C, overload 1.1 x IL (1 min./10 min.)

Starting current

IS for 2 s every 20 s; After 2 s current controller forces it down to 150% IH.

Output frequency

0…320 Hz (standard NXP and NXS);

7200 Hz (special NXP with special software)

Frequency resolution

0.01 Hz (NXS); Application dependent (NXP)

Control Characteristics

Control method

Frequency control U/f
Open Loop Sensorless Vector Control
Closed Loop Vector Control (NXP only)

Switching frequency (see parameter 2.6.9)

NX_2/NX_5: Up to NX_0061: 1…16 kHz; Default: 10 kHz
NX_2: NX_0075 and greater: 1...10 kHz; Def: 3.6 kHz
NX_5: NX_0072 and greater: 1…6 kHz; Def: 3.6 kHz
NX_6: 1…6 kHz; Default: 1.5 kHz

Frequency Reference Analogue input Panel reference

Resolution 0.1% (10-bit), accuracy ±1% Resolution 0.01 Hz

Field weakening point

8…320 Hz

Acceleration time

0.1…3000 sec

Deceleration time

0.1…3000 sec

Braking torque

DC brake: 30% * TN (without brake option)

Ambient Conditions

Ambient operating temperature

FR4-FR9:
IH : –10°C (no frost)…+50°C
IL : –10°C (no frost)…+40°C
FR10-FR12 (IP21):
IH/IL : –10°C (no frost)…+40°C (except NX_0461 6, NX_0590 6,
NXP0820 6 : –10°C (no frost)…+35°C)
FR10 (IP54):
IH/IL : –10°C (no frost)…+40°C (except NX_0520 5, NX_0416 6: –10°C (no frost)…+35°C)

Storage temperature

–40°C…+70°C

Relative humidity

0 to 95% RH, non-condensing, non-corrosive, no dripping water

Air quality:
- chemical vapours
- mechanical particles

IEC 60721-3-3, unit in operation, class 3C2
IEC 721-3-3, unit in operation, class 3S2

Altitude

100% load capacity (no derating) up to 1,000 m
1-% derating for each 100 m above 1,000 m.
Max. altitudes: NX_2: 3,000 m; NX_5 (380...400 V):
3,000 m; NX_5 (415...500): 2,000 m; NX_6: 2,000 m

Vibration

EN50178/EN60068-2-6

5…150 Hz
Displacement amplitude 1 mm (peak) at 5…15.8 Hz (FR4…9)
Max acceleration amplitude 1 G at 15.8…150 Hz (FR4…FR9)
Displacement amplitude 0.25 mm (peak) at 5-31 Hz (FR10…12)
Max acceleration amplitude 0.25 G at 31…150 Hz(FR10…12)

Shock

EN50178, EN60068-2-27

UPS Drop Test (for applicable UPS weights)
Storage and shipping: max 15 G, 11 ms (in package)

Enclosure class

IP21/NEMA1 standard in entire kW/HP range
IP54/NEMA12 option in FR4 to FR10
Note! Keypad required for IP54/NEMA12

Pollution degree

PD2

EMC (at default settings)

Immunity

Fulfils EN61800-3 (2004), first and second environment.

Emissions

Depend on EMC level. See chapters 2 and 3.

Safety

EN 61800-5-1 (2007), CE, cUL, C-TICK; (see unit nameplate for more detailed approvals) IEC 60664-1 and UL840 in overvoltage category III.

Emissions

Average noise level (cooling fan) in dB (A)

FR4 44, FR9 76, FR5 49, FR10 76, FR6 57, FR11 76, FR7 57, FR12 76,
FR8 58

Control Connections
(OPTA1, OPTA2 and OPTA3)

Analogue input voltage

0…+10 V, Ri = 200 kΩ, (–10 V…+10 V joystick control) Resolution 0.1%, accuracy ±1%

Analogue input current

0(4)…20 mA, Ri = 250 Ω differential

Digital inputs (6)

Positive or negative logic; 18…30 VDC

Auxiliary voltage

+24 V, ±10%, max volt. ripple < 100 mVrms; max. 250 mA Dimensioning: max. 1000 mA/control box (power backup)

Output reference voltage

+10 V, +3%, max. load 10 mA

Analogue output

0(4)…20 mA; RL max. 500 Ω; Resolution 10 bit; Accuracy ±2%

Digital outputs

Open collector output, 50 mA/48 V

Relay outputs

2 programmable change-over relay outputs
Switching capacity (resistive):
24 VDC/8 A, 250 VAC/8 A, 125 VDC/0.4 A
Min.switching load: 5 V/10 mA

Protections

Overvoltage trip limit

NX_2: 437 VDC; NX_5: 911 VDC; NX_6: 1200 VDC

Undervoltage trip limit

NX_2: 183 VDC; NX_5: 333 VDC; NX_6: 460 VDC

Earth fault protection

In case of earth fault in motor or motor cable, only the frequency converter is protected

Mains supervision

Trips if any of the input phases is missing

Motor phase supervision

Trips if any of the output phases is missing

Overcurrent protection

Yes

Unit overtemperature protection

Yes

Motor overload protection

Yes*

Motor overload protection provided at 110% of full motor load current.

Motor stall protection

Yes

Motor underload protection

Yes

Short-circuit protection of +24 V and +10 V reference voltages

Yes
Downloads
Vacon NXP Wall Mount Drives Downloads
Additional downloads can be found in the download section of the website Support Downloads